Archive for November, 2011
What do you do to prepare for the holidays? Do you do a lot of house cleaning? Do you try out new recipes?
In my house a lot of that depends on what our plans are. This year we have been invited over to one of our very close family friends for the Thanksgiving holiday.
I love to cook and bake. I love trying out new, sharing, creating my own recipes. I have found that nearly all 'traditional ' stuffing recipes contain celery, carrots, and other vegetables. A couple of years ago I came up with my own stuffing recipe after doing a lot of research and wrote it using ingredients that I can tolerate. As there are hardly any veggies that I can eat without becoming ill.
I have found through experimentation that I can tolerate some very well cooked and peeled apples and onions. So I'll include brown or sweet onions, green apples, chicken broth, a mixture of savory and sweet breads, and herbs. The result may be unconventional and not traditional but it is delicious. In fact my sister has already requested that I make a HUGE batch!
Years ago a coworker of my dads gave us a fabulous and easy pumpkin dessert recipe she called pumpkin dump cake. Amply titled because you mix everything in one bowl and then dump it into the pan!
I find that it is an easier to make alternative to pumpkin pie as there is no crust to roll out. In my version since there isn't a typical crust there isn't any butter and so probably In this recipe that crust is in the form of a 'crumble' made up of yellow cake mix sprinkled on top and drizzled with oil.
What are some of the things you do to prepare for thanksgiving and holidays? I'd also love to hear about any of your favorite holiday recipes?
~Jaclyn~
Death Perception by Victoria Laurie
Rating: 4 out of 5 stars
Death Perception is the sixth novel in Victoria Laurie's Psychic Eye series. In this mystery – adventure we find Abby Cooper and her boyfriend Dutch Rivers just about to head off to Las Vegas, Nevada. They quickly get down to business upon arriving in Sin City after learning that Dutch's cousin Chase has been kidnapped along with the man he was a bodyguard for.
I started reading Victoria Laurie's Psychic Eye novels several years ago and it didn't take long to  found that I enjoyed her witty heroine's dry humor. Abby is down to earth, likable, and easy to relate to.
I gave Death Perception a rating of 4 out of 5 stars. I thought that while the beginning and end thirds of the book were well paced, I found the middle third to be quite slow and drawn out. While I am not entirely sure what my belief is as far as psychics go I do believe that there are some people who are more highly intuitive than others.
I am an avid reader and have read quite a few mysteries, so I did figure out who-done-it long before the end of the book. Though I did like reading the process Abby and Dutch go through to get to the solution.
I find the contrast between the psychic Abby Cooper's trust of her instincts and FB I agent Dutch rivers detective work often contradictory but the pair have found a way to make use of both of their prospective talents. Unlike many other mystery novels, I find this series to be a bit lighter and less gory than many in the genre.
Death perception by Victoria Laurie is available in paperback, audio, and e-book formats.
~Jaclyn~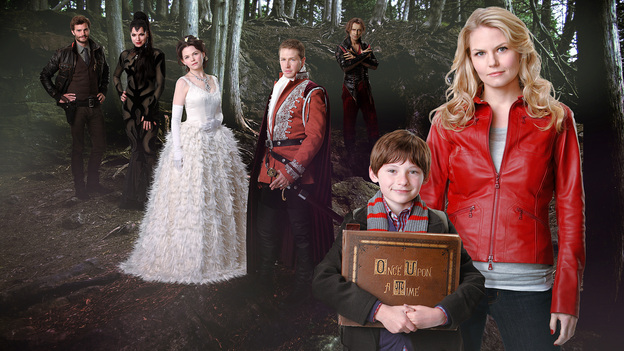 It isn't just the beginning of fairy tales, but also the title of a new show on ABC's fault Sunday night lineup. It reminds me a little bit of the miniseries The 10th Kingdom which is a favorite in my house.
I look forward to watching each weeks new episode and learning a little more of Storybrooke, Maine's mysterious residents. I like how each episode focuses on a specific fairytale as part of the larger plot. This weeks fairytale was Cinderella. I found myself feeling a little annoyed when the TV said that it would be two weeks until another new episode aired.
I love the combination of imaginative ,whimsy , and reality on the part of the writers. And wish there were more shows like this on TV. Do you watch Once Upon A Time? What other shows are on your must see list each week?
~Jaclyn~
Product Review: Bath & Body Works Lotion
Rating: 5 out of 5 stars
I have found that I really do love the lotions that the chain Bath & Body Works (B&BW). My very favorite was the Hello Sugar! with a tantalizing scent of sweet lemon frosting. Sadly B&BW discontinued the line not long after I had discovered it. As it turned out, I was able to buy one tube of lotion and a matching lip gloss.
Luckily last year, B&BW came out with a new summer seasonal "Summer Vanilla" collection which included a Vanilla Lemon which turned out to be pretty close to the Hello Sugar! lotion that I loved but is no longer available. Since I guessed that it wouldn't be around long, I made sure to stock up on this new scent and on several others that were significantly marked down.
Even though I find the prices at B&BW are bit too high, I still love their products. Especially IF I can combine a store sale with either an email coupon that it brings the items.
B&BW stores always have a huge amount of various bath and product products to choose from which is sure please just about everyone. I had noticed that along with the summer vanilla lemon, they had a Summer Vanilla Coconut and Summer Vanilla Berry. I remember reading that studies show that women prefer Vanilla scents, which likely explains why B&BW always has multiple Vanilla scent.
I gave B&BW a 5 out of 5 rating because I always enjoy my visits to their store. I also love that they have such a wide selection of scents to choose from. My mom did, my sister does, and I also do very much like the scent of Vanilla! I don't know many women (or any. really) who don't like yummy/nice smelling soaps and lotions.
My mom, sister, and I also very much like the Vanilla scents like most women throughout the world! With the holidays coming up this might be a very good gift idea (and they do have a men's line of products as well). I also like their variety and seasonal holiday sons that show up this time of year. I don't know many or any really women that don't like yummy smelling lotions soaps and body products. This woman certainly will does.
~Jaclyn~
We watched the last Harry Potter film this past Sunday afternoon. I thought that the second Harry Potter and the Deathly Hallows movie was significantly better than the first.
Overall I typically find that books are better than their movie counterparts. One such case of an exception is in the case of the seventh Harry Potter book! I strongly disliked the book even though I had been a Harry Potter fan for many years and even went to Harry Potter Meetup on several occasions. Click to Continue Reading