Archive for the 'games' Category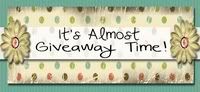 I have decided that its almost time for a giveaway!! As soon as there are 100 'likes' on my Facebook fan page I will post a giveaway!
I haven't yet decided on whether to use rafflecopter or google docs as the entry form. I have entered giveaways using both and think I'm pretty much aware of the pros and cons of each. If I get to 75 GFC followers by the time the giveaway ends then there will be 2 prizes! What are the prizes you may ask? Well, I'm not going to tell you just yet!
(hey, I've got to have my fun with this too, hehe) The faster we get to 100+ fans on Facebook the sooner the giveaway goes live!
~Jaclyn~

I now have a new page up that lists all the giveaway blog hopes, that I know about, for the rest of the year. Over the next few days to weeks I will continue to build and add onto my blog.
This afternoon my 7th and 8th grade English teacher came over. I've made a point to stay in touch with most of my very favorite teachers from my public schooling days.  She brought of Scrabble for us to play as I had never played it before! I always struggled with spelling from elementary all the way through high school. I was very surprised to find out that I actually did enjoy playing Scrabble. And at least during this first ever game, I was pretty good. We playing with each having 8 tiles out at a time. My first word down was brag. When I reached into the fabric bag and withdrew 4 more titles I was initially dismayed when I saw that I had drawn a LOT of vowels.