Archive for the 'wishful' Category
Book Tour & Review: Fractured Truth by Rachel McClellan
Rating: 5 out of 5 stars
Fractured Truth (book 3)
Purchase on Amazon or on Barnes and Noble
Fractured Truth concludes Rachel McClellan's trilogy about teenaged Aura Llona who as light personified is constantly in danger from Vykens (evil) who killed her parents as her mother was also an Aura. I've enjoyed reading Rachel McClellan's Fractured series since I reviewed Fractured Light in December 2011. On top of loving all of her books, I've greatly enjoyed working with Rachel McClellan as well.
While I've been looking forward to this book for over a year, its bittersweet as the trilogy has now come to an end. But I look forward to McClellan's next novel. When readers last left off with Fractured Soul, Llona had transferred to the Auran academy that her mother's sister, Sophie works at, Lucent Academy along with her best friend (who happens to be a fury) May.
Unfortunately, Llona realizes that something very bad is happening at Lucent and she IS going to get to the bottom of it. Luckily May and her former guardian, Christian, are right at her side to help. When Fractured Soul ends, aunt Sophie has been taken by the evil headmaster, corrupted guardians, and Vykens.
In Fractured Truth a LOT happens in a relatively short amount of time which makes reading both book 1 and 2 a MUST to fully enjoy all the complexities of this conclusion. Fans of McClellan's will not be disappointed in all of the action book 3 packs in. Truly, my ONLY negative is that this is the last novel in the trilogy. I don't want the story of Llona, May, Christian and the rest to end. I've enjoyed this journey of reviewing McClellan's novels so very much. I love the style in which McClellan writes, and can't wait to see what she does next.
I really do NOT want to reveal too much story-plot line for those who have not had the pleasure of enjoying this awesome series. I will say that Rachel McClellan's Fractured Light series is on my short list of favorite novels I've read since starting this blog. She is also on the top of favorite authors to work with.
If you enjoy YA Dystopian novels, you will enjoy the Fractured Light series!
Who are some of your favorite authors and their books? I'd love to hear in the comments. And if you've read any of this series I'd love to hear what you thought!
~Jaclyn~
*Disclaimer::I received an e-copy of this book from the author in exchange for my honest review. All opinions are purely my own. Please see my media kit for more information.
Contact: Rachel McClellan
Blog
Facebook
Twitter
Read my reviews of Fractured Light and Fractured Soul by clicking on the title under the cover image!
I had the opportunity to review the young adult novel, Farsighted in November as well as interview its author Emlyn Chand. Now for the new year she is hosting a fun reading challenge. Many of us have now heard of these reading challenges that bloggers, reviews, and readers participate in. Well, this one isn't asking its participants to read new books, but to re-read old favorites. Especially those from ones youth. So I've decided that I'd like to participate. Each month for this year long challenge I'll (try) to post about whatever book(s) I've decided to cozy up with once again.
I'll start with one I was talking to my sister about just the other day when I was looking at this old mug that says "Dad" on it along with a lot of qualities that dad's have. I then told her that I remembered getting the mug from a thrift store in early elementary school when I had gone for a walk with one of his co-workers on one of the summer days I went to work with my dad.
Click to Continue Reading
I am sorry I haven't posted a lot lately. On the one hand, I am becoming stronger and stronger physically with the help of my awesome physical therapists. On the other hand, I haven't been feeling well at all as my GI system and migraines have been acting up a LOT lately. I have digestive problems including IBD (inflammatory bowel disease) that affects my large intestine, chronic nausea (I love crystallized ginger), and GERD (gastro-esophageal reflux disease).
Click to Continue Reading
It's been two weeks now and my left ankle/foot is still swollen and painful! Luckily, x-rays showed that I didn't break anything but this has really slowed me down.
While I will do some walking and stair climbing when I'm at PT (physical therapy), I won't do much walking otherwise right now as it is hurts too much. L I'm very grateful that my slip and fall didn't do any damage to my knee or serious injury to my foot/ankle. I know it could have been a LOT worse. And the PA (physician assistant) did still progress my brace to be able to bend to a max of 75° at my visit just before Thanksgiving.
Click to Continue Reading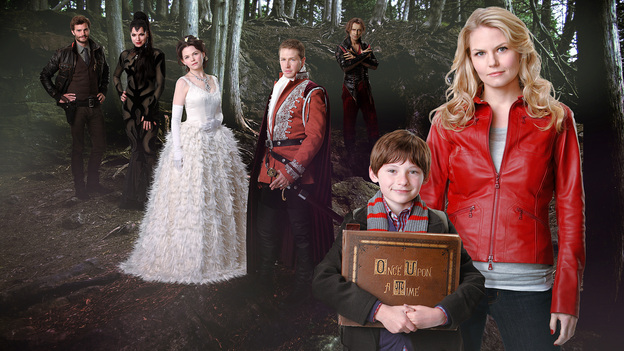 It isn't just the beginning of fairy tales, but also the title of a new show on ABC's fault Sunday night lineup. It reminds me a little bit of the miniseries The 10th Kingdom which is a favorite in my house.
I look forward to watching each weeks new episode and learning a little more of Storybrooke, Maine's mysterious residents. I like how each episode focuses on a specific fairytale as part of the larger plot. This weeks fairytale was Cinderella. I found myself feeling a little annoyed when the TV said that it would be two weeks until another new episode aired.
I love the combination of imaginative ,whimsy , and reality on the part of the writers. And wish there were more shows like this on TV. Do you watch Once Upon A Time? What other shows are on your must see list each week?
~Jaclyn~