I'm trying out a NEW font! I'd love to hear what you think of it?!?
So today when I checked my email I saw that I had received my very first award, The Versatile Award! In return for being rewarded it is now my turn to award it to other bloggers. Below are the included "rules" for it. Thank you Debbie from

A Bookworm's Bookmark for awarding this to me. I will pass this on to 15 other bloggers as the rules specify but will need a few days to do so with all that is going on. For now, though, I will share 7 things about myself that you probably do not yet know!

Today was my first full day on the ARU (Acute Rehab Unit)! It wasn't like a "regular" rehab day as it was evals (evaluations). I woke up very early and waited eagerly for a few hours while waiting til 11am when my PT (Physical Therapy) eval would begin. I was quite excited to see, C*, an old favorite from last June. I really enjoyed working with her a few months ago and was quite eager to show her what I could now do. With all the IV's and tubes it took like 10 minutes to just sort everything out!
Welcome to Take Over Tuesday, a Facebook and Twitter hop, hosted by Closer to Lucy, The Thrifty Things,  and  3 Princes and a Princess 2. Each week we will have either a Twitter or Facebook Hop. This week, it's Twitter!
~Jaclyn~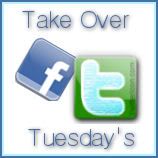 Almost every day I make time to just check out other people's blogs. Whether they are part of a hop that I've following or have found them through someone else's blog, I really do enjoy reading what others are writing. Well just a little while ago I came across a blog, Closer to Lucy, that I had seen a couple weeks ago and this time noticed that she is one of the hosts of a facebook/twitter blog hop. I've been wanting to find a (non-giveaway) blog hop to participate in and as soon as I saw this one I knew I wanted to be a apart of it.

Ever since I first heard about Pottermore two days before Magical Quill hunt began I have been wanting to get a look inside those virtually magical doors! I stayed up for a couple of hours after my 'normal' bedtime waiting around with one of my closest friends who is essentially my cousin (just because we are not biologically related, doesn't mean we are not family, her brother, mother, and father are also part of my family and I think of them as my cousin, aunt, and uncle respectively) as she is also very much into the "Wizarding World of Harry Potter". Neither of us were able to get in on day 1.
But we had 6 days and 6 more chances to try to find the "magical quill" which could unlock the key to becoming a beta tester. So as day 2 begins we both agree that if either of us sees the question (which could only be seen when it is 'live') that we'd text or call the other person. Well, she texted me saying that she heard it was live and I happened to see her text and quickly jumped on my laptop and scrambled over to the Pottermore website.